This is a complete guide on how to get Adsense approval fast in 2023
If you want to know
How to get Google AdSense Approval?
What are Google AdSense approval requirements for the website?
Want to make money online
How to solve AdSense Rejections issues and So on…?
Then You will love this awesome complete guide to getting Google AdSense approval easily
Let's get started…
What is Google AdSense?
Google AdSense is a free open source to earn money online with the ads of showing advertisements to your online content.
With AdSense, you could display applicable and attractive ads to your site visitors or even personalize the appearance and sense of ads to fit your site.
AdSense displays ads to your site based on your website content and depending on your visitor's interest.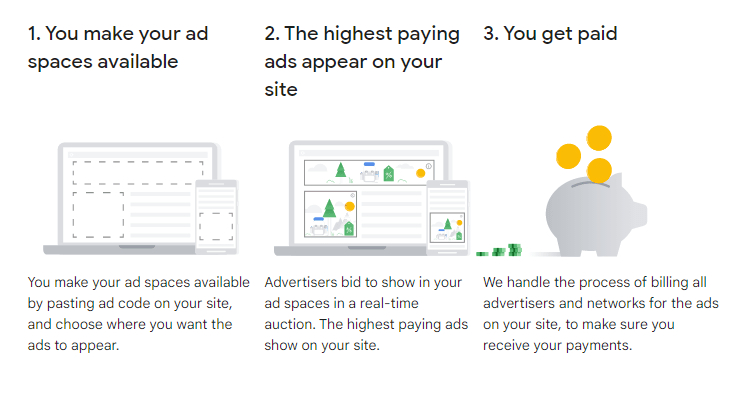 And, these all ads are created by some advertiser for advertising purposes who wants to promote their services or brand.
Advertiser pays different prices for their different ads to Google. and You get the amount depending on advertising pay.
Advertiser pays Google for promoting their services and then Google gives you some commission from the advertisement amount paid their money for advertisement.
What are Google AdSense Approval Requirements 2023?
If you want to join Google AdSense Program then you need to meet Google eligibility requirements.
Here are some guidelines before joining Google AdSense Program.
Eligibility requirements for compliance with Google AdSense:
Must have Own unique and interesting content
Comply with the AdSense Program policies
You are at least 18 years old
The major thing is your unique content. If you have amazing content on your site and people are loving them,
then getting Google AdSense Approval will be so easy for you. There are several Google AdSense Program policies.
First your site with comply with AdSense policies then you can get AdSense approval.
There are age criteria as well you must at least 18 years old to apply for the Google AdSense program.
Digital Marketing Course With Google And 100 % Free Certification

Also Read
So these are basic Google Adsense criteria
I will share my personal AdSense approval trick and How I get approved?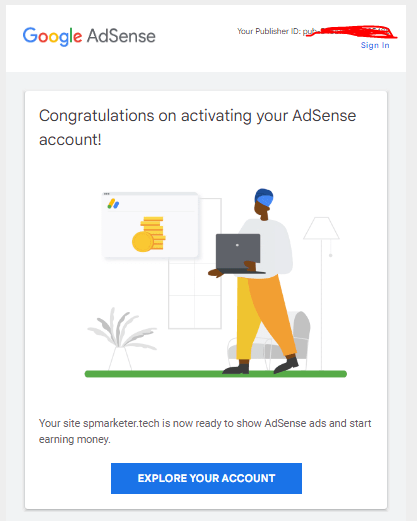 Because it's not easy to get approved the first time. I also tried many times and got many times rejection.
There are so many people and their myths about Google AdSense. But be cool I will give you my method which is works and 100% accepted.
How to get Google AdSense approval fast in 2023?
Every blogger or online content creator dreams to have Google AdSense on their site.
But some people are still facing problems with accepting AdSense for their websites.
I was also like you who was thinking and had the same question as you.
How can get AdSense approval and how fix my AdSense rejections issues and so on?
Finally, I brought solutions for you and shared my personal Google AdSense tricks.
Google AdSense approval For First-time Creators
First, let's know how to get AdSense approval. who is new to the Google AdSense program and never applied for AdSense.
1. TLD ( Top Level Domain )
First, you must have TLD ( Top Level Domain ) like (.com, .in, .tech, etc. ). Why I am suggesting TLD but on TLD you will get approved fast?
But I tell you there is no kind of guideline and rule that you must have TLD to get approved AdSense. If you have .blogspot or something else like.Online
So you can easily get if you have these types of domains You have looked at several .blogspot domains has been approved by Google. When you have TLD the second step is.
Note: For applying AdSense domain age doesn't include in Adsense Program Policies. I accepted at just 18 days old. Domain.
2. Create High-Quality Content Own Unique Content
Yes if you want to get Google AdSense approval without getting a rejection.
you need to write your unique content. Don't copy other content the reason I will tell after why?
First, keep this thing in your mind create high-quality content and own unique content
3. Have traffic required for AdSense Approval
Many people have the same question how much traffic is required for AdSense approval? So Google has no guidelines or policy regarding traffic to get approval from AdSense.
You must have minimum traffic on your site. Because when you don't have more site visitors
then you may not earn properly by AdSense.
4. Important Pages Required for AdSense Approval
On your site, there are some important pages required for AdSense approval which must be available on your site.
Pages like About Us, Contact Us, Privacy Policy, and Terms & Conditions.
On the About page, you have to write properly about your site like what you offer on the site for people. Look at my About us Page here
On other pages which I shared above you can create
there are lots of online free tools available to generate Privacy policies and Terms & conditions.
You must write your contact info in Contact Us like how people can contact you.
5. Create Posts 10 or more than
When you have done all the basic things now it's time to write some piece of content on site.
Many people give myths about getting AdSense approval.
They say you must have 20 posts or more and every blog post must have 1000 words.
But I don't think so because when I got approved I just published 9 articles and,
There were a few articles that were less than 1000 words but I got approved successfully.
So I will recommend you must have at least 10 articles before applying for Google AdSense Program.
Just remember what you are going to write all pieces of content are helpful for people.
Now if you have done this thing, you have some visitors on your site, then you can now apply for Google AdSense.
If you don't have too much traffic then first you must focus on traffic, because If you don't have visitors on your site.
You may not able to generate money through Google AdSense Program. So before joining AdSense get some traffic on site.
6. Navigation and Categories
Make sure your site has a clear navigation menu for users and that you have categories for your content.
Your content should be categories that users can easily navigate user.
7. Add Social Accounts
Add your social accounts on the website which users can easily follow and can be connected through social media accounts.
Google AdSense Program policies
Before getting started Google AdSense first looks at yourself that is your site is ready for AdSense.
These AdSense approval guidelines are most important to know
And before moving forward let's know about Google AdSense Program policies.
Because these policies will decide that Your site is ready for the AdSense program.
AdSense Program policies
Content policies
Behavioural policies
Privacy-related policies
Requirements and other standards
So you can learn more about these Google AdSense Program policies and look if your site is ready for Google AdSense.
Now the last question is how to join the Google AdSense program. Let's explore quickly…
How to Join Google AdSense Program?
Look at the simple steps to become part of the AdSense program. And start making money online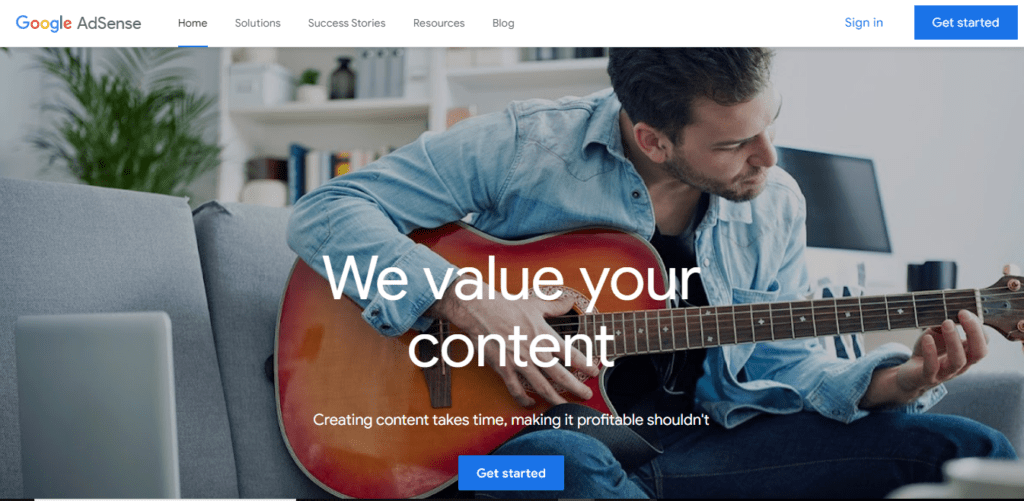 Click Get Started.
Sign in to your Google Account.
Enter the URL of the site that you want to show ads on.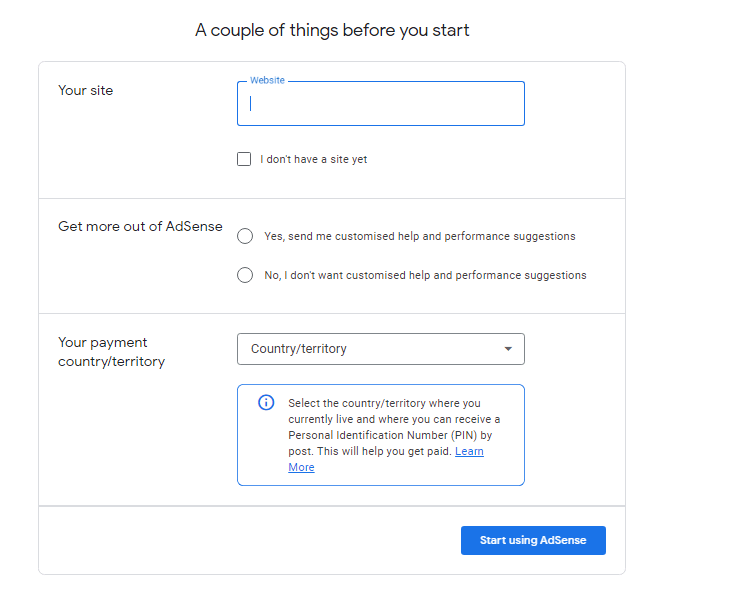 If you want to add your site later, leave this field empty and select I don't have a place yet.
now just set up the payment method and see how your site will look with Google AdSense
The final step is to connect your site to AdSense.
After connecting site AdSense it will give you a shortcode and you have to paste between <head> </head> sections.
Now just click on the Review button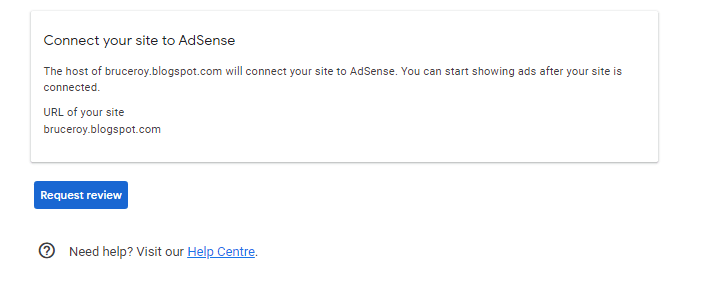 Now you have done all steps, you have to wait for the review response.
It will take 2 or 3 weeks for review. Google team members will check your site that is ready for Google AdSense Program.
You will be notified by email whether your site is approved or not.
In any case, if you get disapproved look at why you didn't get Google AdSense approval.
There are some common rejection issues of disapproved sites.
I also got rejection many times, because For the first time getting approved is a little bit difficult.
But in many cases, people get approved AdSense. So don't be afraid.
Look at some common errors and how to resolve those errors to get Google AdSense approval quickly.
Low-Value Content Errors
Policy violation
There is a common error that I got several times and get disapproved. Why AdSense gives these errors n your site?
Everyone has their own experience and different thoughts.
when I got these errors and try to find a solution to these errors.
Someone says "Low-value content" errors mean you have published a low word count means
All articles must be more than 1000 words.
Another one said you have Out Dated content means already lots of content available on Google.
I was not getting what I did wrong.
After some time I got it by researching that "Low-value content" errors do not every time mean you have fewer word content.
What actual Low-Value content means? And how to fix low-value content errors in AdSense
So the solution is to write interesting content on-site people must interact with your content.
If you have published a piece of content that is not providing value to the people. So this is the meaning of low-value content.
Which content is not providing value to the people and is not helpful?
How to fix low-value content AdSense?
You can easily fix low-value content errors. Just find those articles which you have published some time ago.
And no one read it, not given any interaction.
just find out those pieces of content either remove those content and make updates, helpful for people.
How do I fix policy violations in Google AdSense?
If you got this policy violations error. then maybe you have done something wrong which is against Google guidelines.
I also got this policy violations error How did I fix this error and get approved?
My mistake was I copied others' content and rewritten then published it on my site.
It was my mistake and I removed all copied content on my site.
And again give the site for review finally, I got Google AdSense approval on my site.
To find out your reason for what you have done wrong and remove it.
You can give your site for review any time there is no limit.
If you think you fixed errors again send a request for review and Wait for a Response.
Final Thoughts
Finally, we have discussed all the mandatory points to get Google AdSense approval quickly.
After this complete guide, you will get approved AdSense.
After approval, you may be able to earn money online.
So share these complete Google AdSense Approval guides with your friends and help them to get approved AdSense Quickly.
FAQs
Where can I buy a Google AdSense account legally?
You don't need to buy Google AdSense Account, because Google AdSense Program is free with an easy approval process.
How long does Google AdSense take to approve?
Usually, take approval from AdSense takes a few days, but in some cases, it may take up to 2 or 3 weeks.
Can I get AdSense approval on the BlogSpot subdomain?
Yes obviously you can get approval on BlogSpot but on this domain, Google takes more time to approve your site for Google AdSense approval. But it approves the BlogSpot subdomain
How do I make money with Google AdSense?
There are common questions asked by people. There is some advertiser who pays Google to show an advertisement to promote advertiser services or brands. So Google displays ads on your site created by advertisers. And Google takes charges from the advertiser and you get some commission for showing advertisements on your site.
Can I get AdSense approval on the subdomain?
You don't need to apply Google AdSense for subdomains, because you can show Google ads on the subdomain basis of your main domain.
How do I know if my website is approved for AdSense?
When you submit your site for review the after submitting Google team will review your site and check whether your site is ready for the Google AdSense program or not.
Google takes at least 1 or 2 weeks for reviewing the site. and then Google will be notified by email which you have applied for AdSense.
How many articles are needed to be uploaded to get Google AdSense?
Google AdSense has no policies for article count. Because sometimes Google approved with fewer articles. So if you are looking for the right answer to this how many articles are needed to get approved by Google AdSense? So at least you have a minimum of 10 articles with your unique content.
How do I make money with Google AdSense?
Google AdSense is a free online money-making Google program. If you have online content like on the website or YouTube then you can easily make money on Google AdSense
How do I fix rejection by AdSense due to unsupported language?
Unsupported language rejection means you are using that language on which Google doesn't approve on that language. So it is the reason for rejection. So change your site language which Google AdSense supports.
What is the best way to get Google AdSense approval quickly without traffic?
There is no benefit to getting Google AdSense approval when you don't have at least minimum traffic on the website. So before joining the google AdSense program try to get some traffic then you may be earn properly.